Managed print services
More than 25 years of professional activity in the field of printing
We are in the following cities: Almaty, Nur-Sultan, Aktobe, Atyrau, Tengiz, Aksai, Aktau and Uralsk
We have signed the first print outsourcing contract (Managed Print Services (MPS) contract) in Kazakhstan
For more than 25 years, we have been:
servicing office equipment;
we support the manufacturers' warranty;
We perform repairs of high complexity.
Outsourcing: economy and optimization issues
How can your company reduce the cost of paper and electricity, optimize the printing infrastructure, reduce the cost of maintenance and increase the service life of the equipment?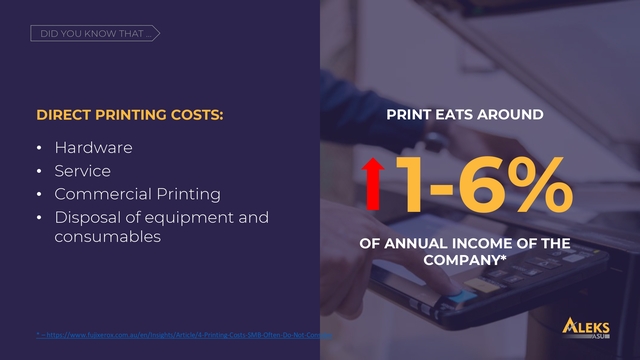 To solve these issues at once we recommend the print outsourcing service, some may now it as Managed Print Services (MPS). Print outsourcing service is a comprehensive service of printing equipment, in which the client pays only for a separately printed copy or a printed page in A4 format. The service allows you to receive more benefits at a lower cost, improving quality of services and consumable print materials.
Moreover, when assessing their own costs, many do not take into account hidden costs and risks:
Losses from confidential data leakage;
The cost of organizing the purchase and further management of equipment, consumables, maintenance, software, paper, and subsequent disposal. Opacity of the process at all stages;
Opacity of paper use (risk of theft, printing your own books);
Organizational unproductivity;
Paper overspending due to paper congestion, dirty and faded prints;
IT Support service;
Systematic training of specialized specialists;
Environmental damage and harm to health;
Inefficient power consumption, excessive noise and heat generated;
Inventory management (accounting and storage);
Accumulation of illiquid stocks.
At the same time, sending documents to printers generates 55% of internal network traffic, and printing problems cause up to 60% of employees' requests to corporate technical support. The larger the company – the greater the losses, which need to be handled. There is also a necessity to understand the main reasons for their occurrence to optimize costs.
Print outsourcing service optimizes the entire printing process for the Customer, monitors the cost and provides recommendations for improving document flow, reducing printing costs without reducing quality.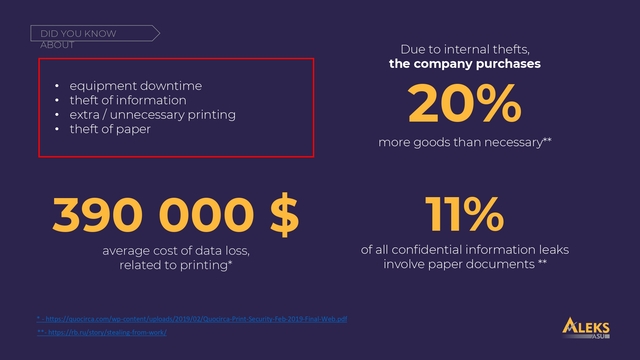 What does the print budget include?
Printing costs - a total combined costs associated with managing and optimizing printer, production, energy consumption, and payment of the working people involved in the workflow. Print outsourcing services allow you to shift all the worries to the print service operator and highlight the final cost of printing costs in one account.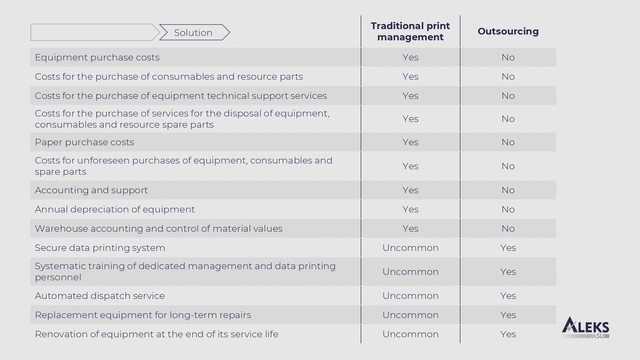 Print outsourcing service in detail. What do we do?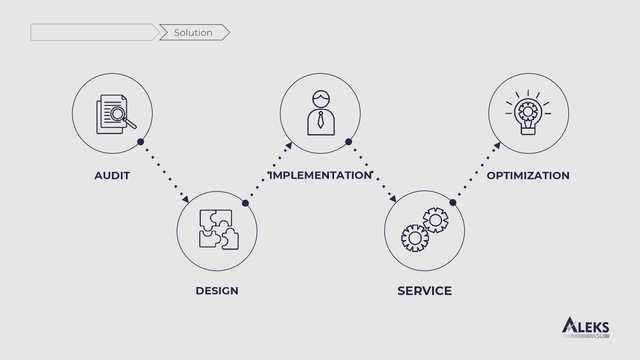 Audit: a detailed analysis of the existing printing infrastructure and document printing processes. We provide a report identifying areas to improve print infrastructure and reduce environmental impact.
Design: A complete, optimal solution for your print environment designed to meet your specific business requirements.
Implementation: Professional project management and highly qualified engineers will ensure smooth operation from installation to training
Maintenance: Maintenance and support will take care of everything you need. Including automatic replenishment of consumables and prompt replacement of broken equipment.
Optimization: Continuously improve your print environment that's optimized through continuous evaluation, reporting, and recommendations.
Lastly but perhaps the most importantly – data security:
Why us?
We are the ones who implemented the first outsourcing project in Kazakhstan. Today, we serve more than 1800 devices in Kazakhstan. The number of prints is over 5 million per month.
The presence of offices and service centers in Almaty, Nur-Sultan, Aktobe, Atyrau, Tengiz, Aksai, Aktau and Uralsk allows our clients to work centrally with one contractor.