What is virtualization?
Virtualization is a technology that simulates the functions of hardware to create software IT services, such as application servers, storage, and networks.
This technology allows you to use and manage IT resources more flexibly and efficiently. Applications are used more efficiently, capital and operational costs are reduced, and the response rate of the IT environment is significantly increased.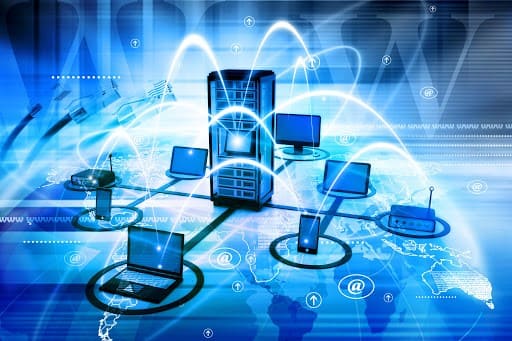 Example of virtualization
A common virtualization scenario: an organization has three physical servers, each of which is designed for a specific purpose: one supports web traffic, the second supports company email, and the third supports enterprise business applications. Since each physical server is used for only one purpose, it is likely that the organization uses only a third of the capacity of each server, although the cost of their maintenance is paid for 100%.
Using virtualization, you can distribute the power of one of the servers to two virtual machines and reduce maintenance costs by a third. This means that one server can handle email and Internet traffic, the second can host all business applications, and the third can be removed to save costs or used for other IT purposes.
Suggested virtualization types
In server virtualization using a hypervisor, physical servers are split into multiple virtual servers, each running its own operating system. This gives you the ability to fully utilize the power of physical servers and significantly reduce hardware and operating costs.
Application virtualization and desktop virtualization
With virtualization, it is not necessary to emulate an entire server, since this technology also allows you to virtualize individual application layers or desktops:
Thanks to application virtualization, users can run applications individually, regardless of the operating system used. This approach is usually used to run Windows applications on a Linux or Mac operating system.
Desktop virtualization gives users the ability to emulate the workload of a workstation to remotely access the desktop from a connected device, such as a thin client on a worker's desk. As a result, desktop virtualization provides more secure and mobile access to data center resources.
Virtual applications and desktops are the best solution, as they are located on a central server, from which IT administrators can deploy hundreds of emulated applications and desktops to users at once.
During network virtualization, the available bandwidth is divided into independent channels, each of which can be allocated to the server or device as needed. Network virtualization facilitates network programming and provisioning, including tasks such as load balancing and firewall functions, without the need to make changes to the underlying infrastructure.
Storage system virtualization
Storage virtualization is the process by which the physical storage of multiple devices on a network is combined into a unified virtual storage device, that is managed from a central console. Storage virtualization requires virtualization software that can determine the available amount of space on physical devices and combine it in a virtual environment.
Data virtualization allows an application to access and use data without requiring information such as the physical location of the data and its format. This means that you can create a single view of data from multiple sources without moving or copying the data.
ALEKS-ASU is a partner of many major virtual platform manufacturers. We are pleased to offer you a wide range of solutions for virtualization of servers, desktops, applications, management systems and security of the virtual environment.